Since 2018, the Government of British Columbia have accepted our annual request to proclaim May 19 as BC Family Doctor Day.
Family physicians are the foundation of our health care system and continue to show up for British Columbians with an open heart and a listening ear – even amidst an ongoing primary care crisis.
BC Family Doctor Day provides an opportunity to recognize the incredible efforts of family physicians practising across BC.
Read the 2023 BC Family Doctor Day proclamation.
---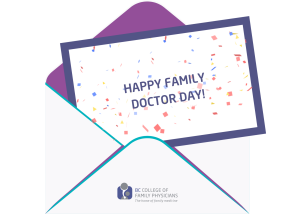 Send your family physician an e-card to celebrate BC Family Doctor Day!
If you'd like to recognize and celebrate your family physician, you can send them an e-card to wish them a Happy Family Doctor Day on May 19!
Click here to fill out a short form and we'll do the rest.